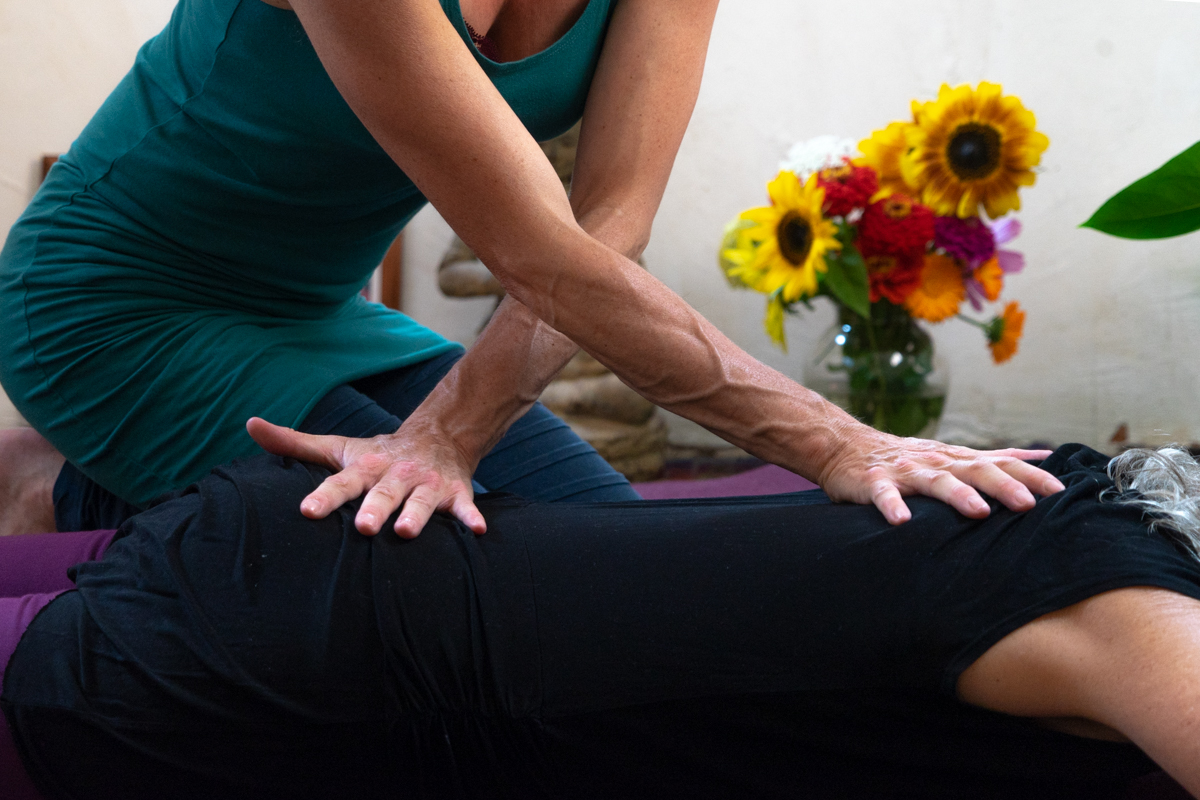 SUZI ZOBRIST (E-RYT500) is a Prajna Yoga Teacher and has been teaching Yoga on Orcas Island since 1999. She is the Founder of Orcas Mandala Yoga & Bodywork Studio and specializes in personal healing sessions for individuals and small groups. Suzi intimately touches the lives of her students and has been building community and creating a sanctuary for healing in her small town.
Suzi tailors her personal sessions to meet the unique needs of each student, offering modifications to accommodate injuries and specific needs. Suzi is supportive and empowering as she encourages students to explore their edges with kindness and to connect with themselves in a deeper way. Suzi brings openness and honesty to her sessions and incorporates her love of poetry, the natural world, anatomy & alignment, somatic movement and Ceremony.
Many students elect to do Personal Yoga Sessions every once in a while to work on a particular pose or sequence, or to get inspiration for their home practice. Still others commit to Personal Sessions on an ongoing basis so that they can develop and deepen their practice. Personal instruction is recommended to all students/all levels.
Suzi offers many specialized Yoga sessions, from " Restore Yoga Core" pelvic floor health, to " Ignite Your Pleasure" orgasmic yoga to Sex(y) Soiree Bachelorette parties. These sessions can be scheduled as individual or group or create your own personalized yoga session.
House calls are available for an additional fee.
Learn more about the studio!
Personal Yoga Sessions
A yoga practice uniquely tailored for your body!
Personal Yoga Sessions are designed to support you on a deeply emotional, mental, physical and spiritual level. Every session is custom tailored for your body, personal interests, concerns and goals. Personal sessions guide you along the journey towards health and healing by focusing on what is most helpful and inspiring. Each unique session may help improve posture, heal injuries and promote awareness of the body, mind, and emotion connection. They are beneficial if you are new to yoga, need some guidance with mastering the basics or are working with a physical limitation or injuries. You will be guided through your session with the benefit of hands-on alignment and a personalized practice. Sessions may include a combination of Yoga, SATYA (somatic movement), Anatomy, breath work, meditation and Dharma study.
During a Personal Session, you might choose to:
Deepen your understanding of alignment and posture.

Work on healing a physical imitation, injuries, or illnesses.

Focus specifically on advanced poses or structural alignment for beginning students.

Develop a specialized home practice.

Work with specific topics, such as pre- or postnatal, weight loss, anxiety, insomnia, grief, and more.

Explore Yoga philosophy and deepen your understanding to specific yoga poses.

A class for your Special Event, Wedding, Birthday or Bachelorette Party.

Personal Sessions with Couples/Partners, Family Members, or Friends.
Pelvic Floor Yoga
Restore Your Root
Enhance your pelvic health and restore vitality to your root with Pelvic Floor Yoga. Explore how mindful awareness, breathing techniques, and gentle movement can improve your connection to your core and pelvic floor and enhance your life. Review basic anatomy of the pelvis and pelvic floor musculature and incorporate Yoga postures to relax, tone, and mindfully strengthen the area to maintain a stable and supple pelvic floor.
The pelvic floor plays an important role in bladder, bowel, reproduction and sexual function, and supports standing balance, hip function, breathing and more. The pelvic floor is also intimately connected to the feet, jaw and mouth.
Pelvic Floor Yoga is for anyone looking to gain more awareness, insight and connection with their pelvis and bring healing to pain and discomfort. Through breathing, visualization, meditation, postures and mindful movement techniques, learn to tone and relax the pelvic floor muscles.
If you have experienced child birth, pregnancy, menopause, surgical intervention, pelvic pain, or peeing when 'sneezing', Pelvic Floor Yoga will give you more knowledge and tools to restore your core.
SATYA Somatic Movement
SATYA, Sensory Awareness Training for Yoga Attunement, is a body of work created by Tias Little that was designed to complement an asana practice. The SATYA movements cultivate inner listening and heighten proprioceptive awareness. The exercises are non-weight bearing and involve sliding, gliding and circular movements to reduce myo-fascial holding in the body. The movements help mobilize the joints, remove fatigue from the body, balance asymmetries and align the right and left sides of the body. In a totally unique way, SATYA practice opens doorways into the interior, providing new pathways of perception and feeling. It guides students away from "doing" movement and toward sensing, receiving and "being" movement. As an adjunct to yoga practice, somatic awareness leads to embodied wisdom.
Yoga Classses & Workshops